Percorrendo l'autostrada Salerno Reggio Calabria (A3), uscite a Buonabitacolo-Padula e dirigetevi verso Buonabitacolo.
A circa 500 metri da Buonabitacolo prendete a sinistra la Superstrada per Sapri - Policastro. Al termine della Superstrada troverete un incrocio a "T" che verso sinistra vi porterÓ in direzione Policastro Bussentino e verso destra in direzione Scario.
Dirigetevi a destra e sostate presso il primo distributore di benzina dove ci contatterete telefonicamente al numero che vi avremo fornito in precedenza. Verremo a prendervi.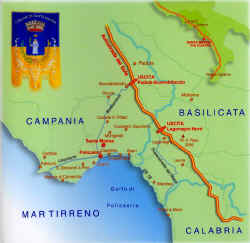 Run along the Salerno - Reggio Calabria Motor-way (A3), take the Buonabitacolo- Padula exit and go to Buonabitacolo.
3 - 4 Km after Sanza you will find the Superstrada to Policastro. At the end of the Superstrada you will find a "T" crossroad conducting at the left to Policastro Bussentino and at the right to Scario.
Go to the right direction and stop at the first Gas Station were you will contact us by phone. We will come and pick you up.